HAPPY HAPPY NEW YEAR
by Sonia Johnston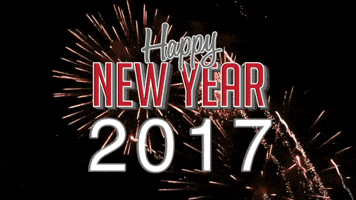 Uh, no. I did not leave GIF's behind in 2016.  What else besides a GIF can so accurately describe my excitement?  I am stepping into 2017 with so many expectations. I have so many projects that I am working on. So many goals that I want to see come to fruition. I really feel like I'm on the verge of something huge.  And I am here for it.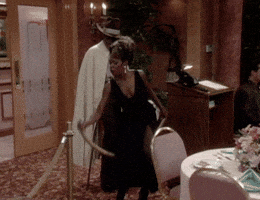 Everyone talks about 2016 like it was the worse year ever. True, we witnessed some disappointing events: turmoil around the world, he who shall remain nameless won the presidency, so many notable and trailblazing celebrities passed, and on a more personal note, I lost my grandfather. Still, I remain hopeful and focused.
You see, 2016 was just the set-up, and I believe that. The promise and the foundation has been laid. It's now up to me to keep that momentum going and work harder than I've ever worked before. I've got goals and goals don't get themselves. That novel that I wrote in 2016 will not just sit in my laptop.  That song that I've been working on will be recorded. And you know what else? That book and that song are just the first of many more books and songs to come. I've got more workshops to attend, more people to meet, more book signings, more radio interviews, and more things to learn.  Like it say's in my tagline: I'm just getting started and there is so much more to come.  I'm ready to do what it takes and run this race..and yes, I'll be taking all the GIF's with me.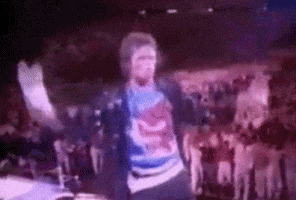 God's Sweet Love
By Sonia Johnston
I tried to write something else for my second post. I really did, but I'm still shouting from my first blog post.
Let me tell you something:  if I don't know about nothing else in this world, I know about the power of prayer. There's not one thing in my life that I have done or overcome without the direct blessings and grace of God. It ain't me.  It never has been.  Everything is owed to Him.
If I'm sick, He is a healer.  If I'm depressed, He is a counselor.  If I'm tired, He gives me strength.  If it's dark, and I can't see my way out of the tunnel, God don't come in with just a light. He knocks the whole infrastructure down.  Ain't no more tunnel. I can't explain it.  It's not for me to know.  All I can tell you is that God comes through in the clutch ev.er.y.time!
I learned about prayer a long time ago.
"For verily I say unto you, If ye have faith as a grain of mustard seed, ye shall say unto this mountain, Remove hence to yonder place; and it shall remove,
and nothing shall be impossible to you."—Matthew 17:20
As a child, I had a huge imagination and no other scripture held my fascination quite as much as the one above.  I'd visualize a majestic snowcapped mountain off in the distance. Across the lake, I'd be standing on the hill, still as a rock, while the blowing winds tossed my ponytails around my head like kites. In my dreams, I'd closed my eyes, lift my arms, and speak the words, "move."  The next thing you know, the winds would stop and the ground would tremble. I'd open my eyes and watch as the mountain would remove itself from its base and topple over into the sea behind it.
One day, I got so caught up in the power of that passage I decided I'd try it. In real life. In the grocery store parking lot. I told you I had a huge imagination.
It was a day just like the one in my dreams, sans the mountain and the lake.  The wind was blowing hard; skirting around my legs and tossing my hair about my head.  Suddenly, the dream popped into my mind and I wondered if I could calm the winds.  I stood stock still and rooted my heels in the asphalt. I closed my eyes, stretched out my hands, and mustered an uncanny calm about myself. Suddenly, I felt this courage rising up in my chest and up through my neck. My breathing slowed and I spoke the words, calmly, serenely, and directly.  I muttered, "Winds be still."  Not even three seconds later, the winds stopped swirling around me. I couldn't believe it.  I popped open my eyes; shocked as all get out and ran my behind all the way home.
"This is the confidence we have in approaching God:  that if we ask anything according to His will, He hears us."—John 5:14
Now of course, science is going to tell me that I experienced a temporary lull. And that's fine, because no scientist can deny the timing.  I know in my heart, that day, lull or no lull, life intentionally taught me a lesson that I needed to know:  God hears.  At all times. It don't matter who you are or where you are.  The line is constantly open. I've been talking to Him ever since.
"Be joyful in hope, patient in affliction, faithful in prayer."—Romans 12:12
Now, prayer is not magic.  You can't snap your fingers and turn a dollar bill into a gold bar.  As Ms. Shirleen would say, "that ain't the work of the Lord." But what you can do, is ask God for the strength and the fortitude to help you turn your situation around.  You can do your diligence and push forward and I promise you: God will open doors that no man can close.  But you have got to believe and you must be persistent in prayer.
"Is anyone among you in trouble?  Let them pray.  Is anyone happy?  Let them sing songs of praise."—James 5:13
Prayer has been my lifeline. I can't do much else but praise His name. Matter of fact, I'm going to end this post in praise. Below, is a song I wrote (think Mahalia Jackson's voice with B. B. King and his band) over twenty years ago praising God and His grace.
God's Sweet Love
"I feel your love, your sweet love surrounding me.
It's in the air I breathe and in the water I drink and all the thoughts I think. 
I feel your love, your sweet love surrounding me.
How could I get up this day without your love my way?
I'm thankful to you God, just glad to be alive.
I'm here in the flesh to testify to the rest.
My God you are the best, my life, my love I must profess. 
I feel your love your sweet surrounding me."—Sonia Johnston
Peace and blessings y'all!  Stay up!
#author
Article by Sonia Johnston
It finally happened.  I am a published author.  I AM A PUBLISHED AUTHOR. I could say it a hundred times and it never gets old. And every time I say it, I still say it with a huge smile on my face. When I tell you God is good…
Words have always whispered to me.  I've always wanted to write and I've always been drawn to words. As a child, I was an early reader.  When all my friends were reading Judy Blume, I had already graduated to The Catcher in the Rye. And when there wasn't a book around for me to read, I'd read liner notes off of albums. Yes, I said albums.  Don't you dare start trying to calculate my age! I loved reading so much that when there was nothing new to read, I'd bury myself in dictionaries and encyclopedias…
I had it bad.
Enter my pre-teen and teenage years and suddenly I was writing rhymes, trying to be the next best female MC:
"I stand alone, isolated on this mountain I own. I'm just a renegade, a rebel, and the stage is my throne…"
I was pretty good, if I must say so myself, but then I fell in love with poetry.  Next thing you know, I was writing songs, and finally, I returned to novels.  Only this time, I was writing my own.  Next thing you know, I got married, had children, and fell in love with my family.  I quietly took all of those poems, all of those lyrics, and all of those stories, packed them neatly in a box and slid everything under the bed.
I know.  That was bad too.
But you see, the author in me was always whispering, trying to find its way above the noisy chatter of life.  So, every now and again, when I'd hear it, I'd start the beginnings of a new novel. I'd jot down ideas, conversations, you name it.  You see, my characters, had already decided that no box under a bed was going to keep them contained.  So they fought, even when I didn't, to be heard.
Fast forward to 2015, and my persistent characters were still there wagging their fingers and rolling their necks. And one day, the seriousness of having twenty years pass me by with me not having done one thing to further my writing career dawned on me.  I looked around and evaluated my life.  My husband and I were still going strong, our kids were practically grown, and my business was thriving. But the one thing that was inherent to me, the thing that came so naturally, writing, was the area in my life that was unfulfilled.  There was no way, I could let that happen.
I pulled out the box from under my bed.
With prayer, I decided to take the plunge and turn the tide. I enrolled in writing workshops led by the talented award winning author Victoria Christopher Murray, whose support has been unwavering.  I listened and I learned. I wrote a vision board and I prayed and I prayed and I prayed…and I worked.  I made time in my life and I put in a lot of hours. Writing may be a natural talent, but nothing about writing is easy. To be good at it, you have to work and train as consistently as an athlete. You have to be committed and you have to focus.  And you also have to be prepared to face rejection.
But God and my characters had a plan.
Enter the summer of 2016 and one of my characters, Tasha, is being featured in my first short story, Hundred Dollar Money in the Brown Girls Books anthology, Single Mama Dating Drama.  That makes me a certified author!  Another one of my characters, is currently being chronicled in my full length novel, Real Love, which is now in the editing stages. And because God is so good, and because I'm now, literally, wearing my author shirt, I've written another short story entitled, Home for Christmas.  Stay tuned for details on that and many, many more stories that will finally make their way out of the box under the bed.
But wait, there's more: I just recited a poem in front of a live audience at the nationally acclaimed, Tuesday Verses.  I will also be in the studio soon to work on production for my song, "Power of Prayer."
I'm smiling as I type. God is good.  Life is good. And finally, I can say the writing is good.
I'm an author.  I AM A PUBLISHED AUTHOR. Stay tuned because I'm only just beginning.
"God can restore what is broken and change it into something amazing.
 All you need is faith."
—Joel 2:25